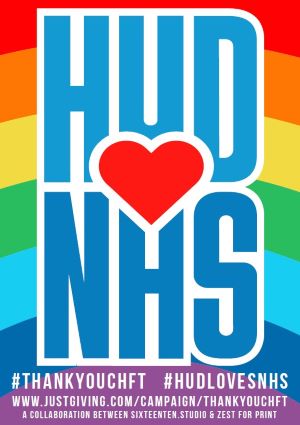 There has never been a better time for your company to show its support to the NHS staff who have worked tirelessly to care for those most in need across Calderdale and Huddersfield.
Whether you're interested in staff engagement, making a donation, sponsoring an event, or working with us to raise awareness, your support is crucial in helping us make a difference to the lives of thousands of patients and staff.
Our dedicated fundraising team can work with you to create a lasting partnership. We can help you demonstrate to staff, customers and stakeholders that you're a caring employer that wants to make a difference across our four hospitals and community services.
Thank you to Meltham based Zest for Print, for supporting us with their Hud loves NHS campaign.
WHY PARTNER WITH US?
Becoming a corporate partner means you can engage both customers and staff while helping us fund innovative equipment, education, research and wellbeing activities that goes helps our NHS Trust go further - beyond the scope of the NHS.
Improve employee engagement – choosing to support our charity will give your staff a shared cause that they can support together, boosting morale and encouraging team building. Giving employees the opportunity to volunteer or provide pro bono expertise can also help with staff retention and engagement.
Commercial advantage – a partnership with us can help deliver your business objectives, including increased brand awareness and sales. We can support you with digital and media work.
Show you care – now more than ever before, customers and staff feel strongly about supporting the NHS. Partnering with us gives employees confidence that you care about what matters most to them, which we know leads to increased staff loyalty.
Healthcare affects us all – we never know when we're going to need the NHS, but we all know that it is there for when we need it most. Supporting your NHS charity is something everyone within your business can get behind. We're a cause that resonates with everyone.
Account management – we are here every step of the way. A dedicated account manager will guide you and support your staff to ensure the partnership meets your objectives.
WAYS TO SUPPORT US
Here are some of the ways in which your business can support us:
Charity of the year - choose us as your charity of the year and we can develop a calendar of activity together
Sponsorship - we have opportunities to help you increase your brand presence through sponsorship of our events, mercandise or through our appeals
Gift in Kind - donations of product that can support our colleagues or patients
Strategic Partnerships that align to your Corporate Social Responsibility Strategy
Match Funding many companies offer match funding boosting the amount raised by employees
Team Building through events and volunteering