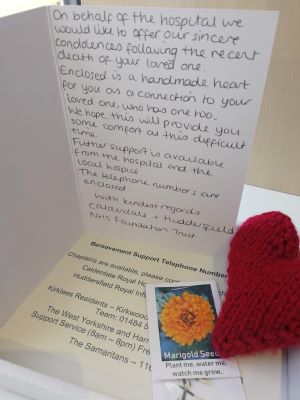 It has been incredibly poignant to see the daily large numbers of families who lost loved ones, without being able to be by their side at the time of passing. Calderdale and Huddersfield NHS Charity committed to funding a number of initiatives, to ensure palliative/end of life patients and their relatives received additional support and care services, that pre-Covid-19 were not available.
Gillian Sykes, End of Life Facilitator has been pivotal in setting up and managing a dedicated Bereavement telephone support service, for the families of loved ones who have passed away under the care of Calderdale and Huddersfield NHS Foundation Trust. Gilliant said:
"This service has really supported grieving families and friends who are feeling the sadness and loneliness of loss, with so many people having thanked us for contacting them, providing help with any questions and passing messages of thanks to ward teams and providing a caring and compassionate approach at such difficult times. I feel that the development of this vital service underpins the core values of Calderdale and Huddersfield NHS Foundation Trust and the staff who work within."
The telephone service has opened up a two way conversation with families, something which we have not had before. The calls not only show we are thinking of the family, but we are wanting to hear feedback, hear suggestions and address change and continue to improve. The feedback from calls is shared with relevant colleagues, such as Matrons, Ward Sisters and Consultants.
Charitable funding has also contributed towards small personalised bereavement boxes that are sent to a bereaved family, offering condolences, support and signposting to local bereavement support services. Feedback from families has been beyond incredible, and testament to the innovation, adaptation and compassion of Calderdale and Huddersfield NHS Foundation Trust and its workforce.
Thank you to everyone who donated to us and helped support this vital and meaningful service.