We know that when we unite and come together – we make a really big difference and One Good thing is based on the simple idea that everyone can do something good, no matter how big or how small.
Whether you sign up to one of our events, volunteer for us, become a charity ambassador, nominate us as your workplace charity of the year or plan your own fundraising event, there are so many ways to get involved and help us do more for our colleagues and patients at Calderdale and Huddersfield NHS Foundation Trust.
This 'Blue Monday' (Monday 17th January) we want to focus on good deeds and positivity, and on our 'Good Deed Day' we will be asking colleagues at CHFT and our communities to make their pledge of a Good Deed, do their One Good Thing and support us.
Download our Good Deed Pledge complete it and send us your Good Deed Selfie either by emailing your picture to chftfundraising@cht.nhs.uk or by tagging #CHFTOneGoodThing @chftcharity on social media!
* * * * * * * * * * * * * * * * * * * * * *
Stuck for some ideas? Use our One Good Thing Top Tips as a guide to getting involved.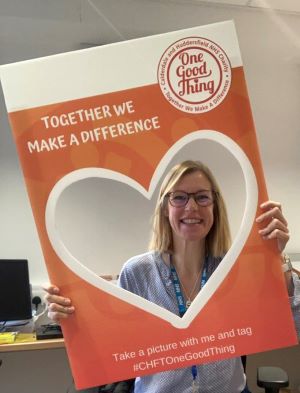 One Good Deed Deserves Another
As part of the One Good Thing campaign, our Charity Team are out and about this January popping into hospitals and community settings.
From Monday 17th January, we have some Good Deed Day packs with branded goodies to give away, so you know a colleague who has done you a good deed lately and you want them to know how much it mattered.
Contact emma.kovaleski@cht.nhs.uk with all the details and we will help return the favour.